I really cannot believe...
I really cannot believe I'm saying this - but - Veronika and Nadiya have changed my life! I've had acne problems for as long as I can remember - through high school, college, and then cystic acne all through my 20's and early 30's - that left many scars. This took a huge toll on my confidence especially in my 30's, and I could never fathom leaving my house without slapping on a thick layer of foundation.
When I first came to Acne Clinic, I asked for a chemical peel and they advised I take a step-by-step approach to a solution for my acne - starting with diet, and then moving to treatments..
I could see the improvement month after month -- and within 3 months, my skin was CLEAR! I have kept acne-causing foods out of my diet for the most part, complied with my skin-care routine using the products they gave, and I can finally leave my house without makeup. And as an additional bonus, my skin is always glowing and looking healthy! Never thought that was possible. What a huge confidence boost. My family and friends are stunned by my results and I even got my sister, who lives in San Francisco, to work with Nadiya and Veronika on a Distance program. HIGHLY recommend Acne Clinic NYC. There's literally nobody better. If you want permanent/long-term results - go to them!!!
Disha H.
...my face and skin has transformed into beautiful even smooth skin tone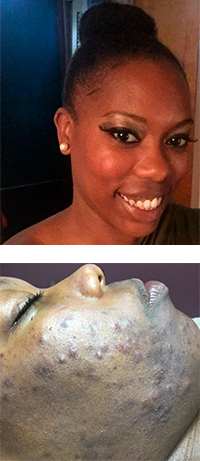 After working with Veronika my face and skin has transformed into beautiful even smooth skin tone. She was caring and was understanding about how I felt about my face having acne.. she truly was the best esthetician I ever had. Now I am confident and still go to her for skin advice she is awesome and amazing and helped clear my skin up just in time for my wedding. I will always rely on Veronika's advice for anything skin related. She knows everything there is to know about acne.
Amirah Reaves
I have had the most amazing experience...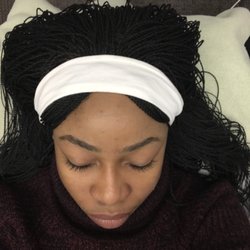 I have had the most amazing experience since I started the Acne Treatment Program with Veronika 2 months ago! My face is almost flawless but beyond that I have developed a great friendship with her. Veronika not only vast about acne treatments, she keeps in touch with her clients, which is So Rare! I've had acne breakouts for almost 17 years and nothing I've tried has worked for me until now. I'm so blessed to have found her!
6 months after I started my acne treatment program with Veronika, I am extremely happy to get rid of most of my make up products!!! #HappyFace! If you don't give Acne Clinic a try you will never know! 2018, New Face! Happy me!!!
Stacy O.
I highly recommend this place!.
If you have acne, I highly recommend this place! I came to see Veronika in December 2017 with tears in my eyes because of how bad my acne was - I've been battling with cysts on my face since I was 12 years old, and now I'm about to turn 26 years old. I can confidently say now that my skin is the clearest it has ever been. I have tried many dermatologists, pills, creams, face washes, and even crazy diets, and nothing has helped me. Veronika treated me with such kindness and patience and led me every step of the way. The facial treatments that she provides are very relaxing, and my skin has gotten brighter and clearer every day 🙂 I also love the product line that they require you to use - everything is affordable and very high-quality. Finally, I really appreciate how flexible their scheduling is, as they offer after-work appointments at night. I'm just so happy to finally have my life back, and I owe it all to Veronika. Thank you so much!
Katarina L.
...now my skin have cleared up like almost 90%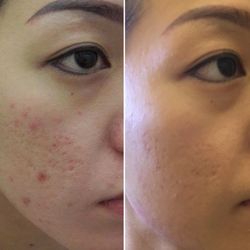 I don't really write reviews but Veronica and Alexandra are just that good! They are incredibly knowledgeable and professional. Not only they are good at what they do, they cares about your results just as much as you do. I first came in March with severe acne but now my skin have cleared up like almost 90%.Thank you ladies for everything!
If you're someone like me who've been suffering from acne, you should def give Acne Clinic a try!;)
Carmen N.
The prices are so reasonable for the outcome...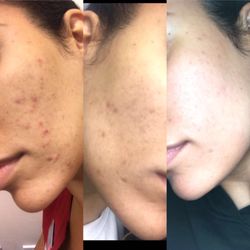 I'm going to need anyone that has any type of acne problems to go see Veronika immediately!! I've had cystic acne for 4 years now, multiple medicines/antibiotics, I was even on accutane and STILL had breakouts. Veronika tells you exactly what you need and the results are better than anything I hoped for. The prices are so reasonable for the outcome, I've paid 3x the amount with no results. The pictures I tagged are my first day seeing her to my last appointment with her, 5 appointments! Only 5 and this is what she did, I'm still in shock but I'm hoping showing you guys my results with zero filters or edits proves her genuine talent with skincare. Thank you Veronika!
Jessica F.
I definitely recommend them to everyone…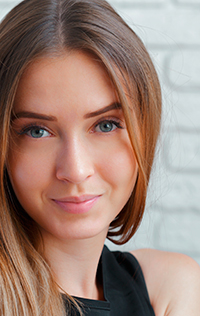 I tried every product made for acne with no results. Once on their treatments and products my acne cleared up. I learned so much about my acne and my skin. Their home regimen are entirely personalized! Every person is different and I truly appreciate that they treat your skin individually. I was referred to them by my friend, who also was very happy with the results. The Estheticians work with you over the entire process of getting you clear! I definitely recommend them to everyone who would like to get rid of acne and improve their skin.
Olga N.
I have had many facials over many years but never with such consistent improvement…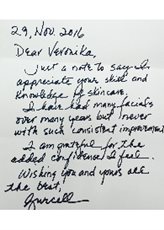 …Just a note to say that I appreciate your skill and knowledge in skincare. I have had many facials over many years but never with such consistent improvement.
I am grateful for the added confidence I feel…
Gurcell
I have been battling acne for the last 18 years...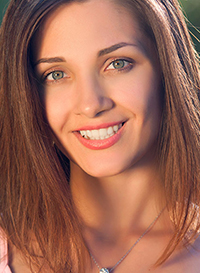 I have been battling acne for the last 18 years. I have tried every single antibiotic, medication, crème, soap, topical, etc. you name it. I did see some results that I was actually pleased with while on Accutane/Isotretinoin. However, the side effects from this pill are very strong. I lost 30-40% of my hair but that was the price I had to pay to get a break from acne. I was depressed. While I saw improvements with my skin, I was suffering due to the drastic amount of hair loss. The thing about Accutane is that it only worked while I was on it and once I stopped, the acne will slowly returned about 6 weeks later. I have tried Accutane 4 different times for a 6-12 month period. I was being hopeful but unfortunately it was just a reoccurring issue. To top it off, it stays in your system for up to a year but does you no good. I was hopeless. I tried home remedies that were all a failure. I have read numerous articles and testimonies. Now here's mine. Last year I met Veronika, my esthetician who changed my life forever. She took her time to diagnose my skin. She was confident in all the products and whatever procedures I was to follow. In a span of 3 months my skin has cleared. I have seen major results.
What I've been trying to do for the past 18 years I was able to conquer in 3 months thanks to Veronika. I feel better. I feel confident. I am a totally new person sort of like a rebirth. Only those who've been through the acne struggle will understand. I am glad to share my story with you. I hope you truly give this a try. It works! I am proof.
Julia B.