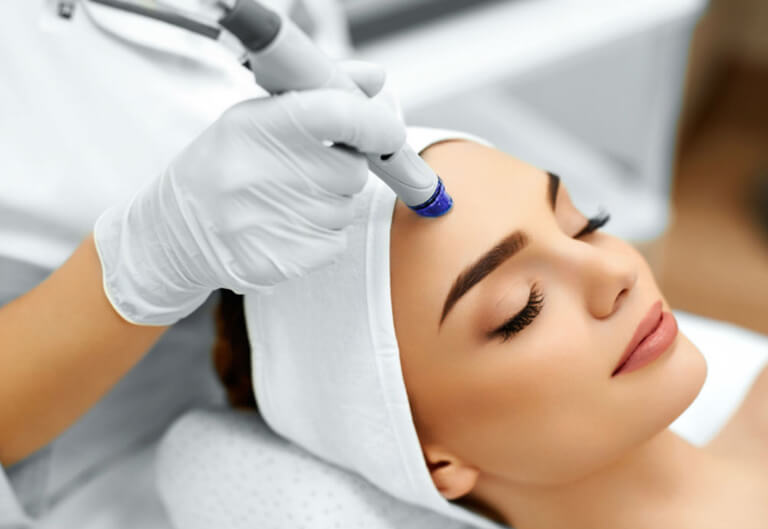 HYDRAFACIAL
What is Hydrafacial?
A treatment using a patented technology (a medical-grade device) that in 4 steps provides you with the best skin of your life!
Step 1: Cleansing and Exfoliation
Step 2: Acid Peel
Step 3: Vortex Extraction
Step 4: Hydration
The device uses a vortex swirling action to deliver a non-invasive yet effective treatment which shows immediate results. The beauty of this treatment besides its hydrating, anti-aging, cleaning and soothing qualities is that it has no downtime and can be used for nearly any skin condition and skin type.
Benefits of Hydrafacial?
Uncovers a new layer of skin with gentle exfoliation and relaxing resurfacing.

Removes debris from pores with painless suction, sweeps the upper layer of debris and dead skin cells away and nourishes with intense moisturizers that quench skin.

Saturates the skin's surface with antioxidants and peptides to maximize your glow.
Who Is The Perfect Candidate for Hydrafacial?
Because of its non-invasive qualities and wide array of positive effects on skin, it can be recommended for all faces: teens as well as adults. Great for all skin types, it is also excellent for remedying:
Elasticity and firmness

Skin tone evenness

Oily and congested skin

Enlarged pores

Signs of aging: fine lines, wrinkles, sun-damage
What Can I Expect After Hydrafacial?
Compared to harsher chemical peels and/or laser treatments that leave your skin irritated for several hours or days after the treatments, Hydrafacial delivers results with no downtime and allows you to carry on with your life without interruption.
Contraindications: